Snowboard Simulator Hire
Here it is Snowboard Simulator hire, the icing not he cake for your winter themed event or party! With a bizarre twist on the Rodeo Bull hire and Surf simulator hire, now comes the Snowboard simulator hire. The ride can simulate the roughest of alpine terrains (without the snow of course!). This is probably the fastest simulator around, what are you waiting for, turn the air conditioning down to freezing and lets all go snowboarding! Available across the UK, including Kent, Essex, London, Surrey and Sussex.
The unique Snowboard simulator. The snowboard simulator is the newest addition to the simulators that we have to offer, and has so far been a great success at all events that it has been used at, giving people something a little bit different to what they are used to.The snowboard simulator is without doubt the fastest simulator that is currently on the market. The ride is able to simulate the highest and roughest of all Alpine terrains, obviously without the cold and wet feeling of the snow. The best aspect about the Snowboard simulator is that it offers something completely different to anything you may have ever experienced in the past, giving it that extra edge and making competition at events a little fiercer. Due to the Snowboard simulator again being fully adjustable it is suitable for use by both adults and children.With the inflatables, it is important to always allow a couple of foot all around the simulator for the auxiliary equipment and access. So let's get the air conditioning turned down to freezing and let's all go snowboarding and have the time of our lives.
We have covered events from Kent, Essex, London and Sussex, so why not call us to plan your next corporate or team building event and hire your very own Snowboard simulator, covering the UK.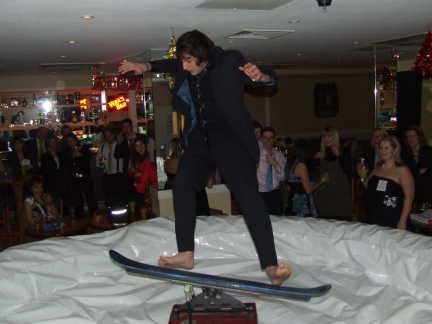 16ft x 16ft Height clearance needed 10ft
Travel cost may be added
All events are covered by our 5 million public liability insurance. All of our staff are fully trained and DBS checked. A staff member will attend your event to operator the machines throughout your event